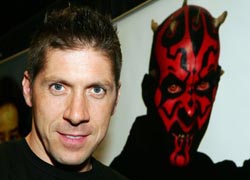 Since he exploded into the limelight as Darth Maul in
Star Wars: Episode I
, Ray Park has been a staple in geek movies. Also being cast as Toad in
X-Men
and Snake-Eyes in
G.I. Joe
, this martial arts master and admitted comic book geek is living the dream playing some of the more iconic roles in geek lore.
He has now increased his geek repetoire by being cast on NBC's
Heroes
as Edgar, a speedster with a dark side (no Star Wars pun intended).
Robin Lundberg and I had a chance to catch up with the geek icon to talk about his role on
Heroes
, his past roles, and if he could confirm some rumors for us about the progress of a possible
Iron Fist
movie.  
CLICK HERE
- to listen to Robin Lundberg and I interview one of the great geek movie icons of our time,
Ray Park.