Ultimo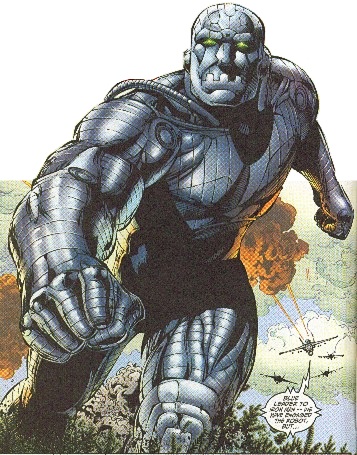 Powers/Abilities: Ultimo is programmed to destroy. There are certain beings he seeks to destroy in preference to others (such as Iron Man and the Rajaki), but he ultimately destroys all life in his path. He has little capacity for independent thought or any emotions besides hatred. He can be programmed to serve various purposes by those able to access his circuitry. He possesses vast strength (Class 100) and durability (able to withstand virtually all injury short of a direct nuclear explosion), virtually limitless stamina, enhanced human speed, agility, and reflexes. He can fire beams of great concussive force and disintegrative power from his eyes; his eyebeams once even proved capable of preventing Thor's hammer from returning to him.
    The source of his power is uncertain, but he is believed to be able to provide a virtually limitless supply of energy if properly tapped. Under certain circumstances he can absorb energy from outside sources to grow proportionately in size and power.


Thermal man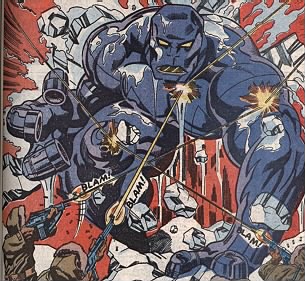 Powers: The Thermal Man was powered by an "atomic pile", which made him nearly invincible to any attack. His eyes and hands unleashed a "Thermal Blast" capable of melting any earthly material into slag, up to and including bedrock and tanks. He was also strong enough to toss Thor around (Class 50?) and durable enough to survive direct hits from Mjolnir, and even an "implosion bomb" designed specifically to destroy him. He also had sophisticated sensor arrays designed to find the weaknesses in materials. He could not be reprogrammed, despite numerous attempts to do so. When later revived by Redfield Electronics, he no longer had an atomic pile engine and was somewhat less powerful, but could absorb energy directed at him.

VS

Metallo

Metallo's metallic body offers him a high degree of protection from physical and energy attacks. He has enhanced strength, endurance and agility. Metallo no longer needs to eat, sleep or breathe. His brain is hermetically sealed inside a shielded alloy skull that has its own power supply. When he was first created he was powered by a Kryptonite heart. Before he could absorb any other metal.

Cybrog superman

Following his exposure to cosmic radiation and subsequent "death," Henshaw's consciousness survives in an electronic state, making him virtually indestructible as he can transfer his electronic consciousness into any nearby machine (and even some that are light years away). Henshaw is able to 'inhabit' any machine or technology and manipulate said devices as though they are living metal. He can animate machines, construct any technological device, and control any mechanical system. In addition, Henshaw's 'Cyborg' body possesses a various number of other mechanical sensors, and has the ability to interface with any machine. His technological components can transform into a myriad of weapons and tools - since his first appearance as the Cyborg Superman, Henshaw has consistently manifested his technical half in that manner.
Thanks to his interactions with Superman's birthing matrix, Henshaw possesses knowledge of both Superman's Kryptonian genetic code and Kryptonian technology. This information allows him to construct cyborg bodies with organic portions that are genetically identical to Superman and mechanical components built from Kryptonian (and later, Apokoliptian) alloys. Using Superman's genetic code gives the Cyborg access to all of Superman's powers, such as high levels of superhuman strength, speed, and durability; super acute senses; x-ray, heat/laser, and infrared vision; and ultrasonic hearing, including, Superman's vulnerability to kryptonite radiation, which appears to weaken both the organic and technological components of Henshaw's body, preventing him from altering his body. However, even though his organic half might be mortally weakened by kryptonite, the mechanical components of his body will allow Henshaw to still function, albeit without any of his Kryptonian powers.
Henshaw's own durability may not be equal to Superman, as he was shown melting and burning up in Earth's sun during a battle with Superman Red, an exposure which the true Superman has survived repeatedly with no ill effects. Henshaw's body had been made out of material he got from toys, however. A full-power strike from Darkseid's Omega Beams has also incinerated Henshaw's body, but it is still unclear exactly how durable he is. The blast hit him while he had already been weakened by a lesser one earlier, and he was blindsided both times because he was already engaged with Superman; no minor distraction itself.

Who wins? This time I gave info on everybody lol. Not just marvel.