Sasuke Indra's Susanoo vs 10000 Aangs who can fly and in Avatar state.
Rules:
No calling mods
No trolling
No fanboys
No flagging
Bloodlust
Speed Equalized
Fight to The death
Why Aang wins:
Lets think about this logically. Sasuke's lightning energy is blue so all the Aang's can bend that because it has spirit energy from all of the Tailed Beasts. Aang bends that shit in his sleep. Next, Amaterasu, Aang can bend it because it is a fire type, and can redirect fire. Next is fire style, thats just an attack that contains positive and negative chakra. Well freaking Zuko, Azula, and Aang was able to redirect fire so i'm sure Aang would do the same. Next, Aang can bend all of the 4 elements. and Sasuke can use 1 element, Fire, so Aang would just summon a tsunami and wash away his fire style jutsus, including Amaterasu, since he reacted to lightning and light itself.
Even Roku can create Country level tsunami's and Island level split. So indicating that Aang is scaled to continental level due to Korra's level of spirit beinding. And we all know that Naruto and Sasuke is Island level at best due to the scale of their final clash. But let's be honest, That final clash didn't even destroy and entire country.
Now Some people might argue that in Susanoo of Indra might be Aang easily, but think about this, there are 10000 Aang's against Indra's susanoo and Arrow. And we know that in the avatarverse, Zuko and Aang can redirect lightning.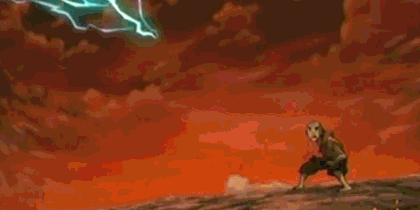 So if Sasuke shoots his powerful Technique, Indra's arrow, Aang can redirect it. Because that shit is only just lightning. And Aang can redirect it. Also aang can fly as well. If that's not enough, After he fired it, Sasuke was extremely exhausted and since their is more Aang's he can beat the shit out of Sasuke with all the elements.
Also Genjutsu won't work against Aang because Aang doesn't have chakra.
Jiraiya's explanation of how genjutsu works.
Step one - target your opponent's senses to gain access to their chakra network
Step two - manipulate the chakra flowing through their brain, producing the effects of genjutsu
2. Genjutsu is countered by disrupting the flow of chakra.
If the target has stronger control over their chakra than the genjutsu user they can break out of it solo. If the target doesn't have strong enough chakra control then they won't be able to break it and need a third party to inject them with chakra. The only logical conclusion to draw from this is that the chakra being controlled is what allows genjutsu to have any effect.
3. Genjutsu never worked on anyone without chakra since everyone in Narutoverse has chakra.
As Naruto explained to Kawaki, not using chakra =/= not having chakra
When Kakashi taught Sasuke Chidori he said that if you overdo it and completely run out of chakra you'll die. He later proved this to be true against Pain
Even if Tsukiyomi activated, it won't work on Aang, Aang doesn't have chakra. Aang kills him.
In other words, Sasuke is FODDER!!!
So whats Sasuke going to do now, use taijutsu? Bitch HE HAS MARTIAL ARTS. AANG Kicks him or Use all the 10000 Aangs to take Sasuke's oxygen, and break all of his body and Goes home and eats Momo and Appa.
This is legit. Face it Naruto fans, you can't do it.