VS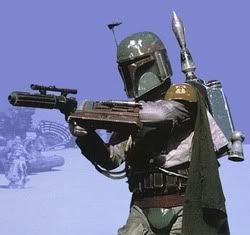 ((set up)) Several misterious figures have met in a warehouse in a dark, dirty city
ShadowMan 1(SM1)- Todays topic, how to get rid of Tony Stark
SM2- Hire someone?
SM3- But who?
SM5- Is Titanium Man available?
SM1- No Iron Man killed him long ago
SM3- But I heard theres a new Titanium Man
SM1- He also fought Stark, and lost
SM4- I've heard of someone far stronger than Titanium Man
SM5- Who?
SM4- He's also got a suit of armor, weapons, and can fly
SM1,2,3, and 5- WHO!?!?!?!
SM4- Boba Fett
The five evil figures hire Boba Fett to hunt down and kill Tony Stark, Boba easily finds his target.
Boba- Tony Stark your coming with me
Tony- Who wants my head this time
Boba- You'll find out soon enough
Tony- [runs downstairs]
Boba- [shoots at Tony and misses]
Tony almost immedinetly flies out of his basement as Iron Man, Boba shoots at him again and graises his shoulder
Tony- ARGG now it's my turn!!
AND A GRUELLING BATTLE ENSUES