Earlier I had already made one of these blogs, but I felt it was a bit unclear, so this is going to be the official revamped Thor beats Hulk thread
So basically these guys have had a ton of slug outs where both have won and lost some, but considering that Thor has almost always JUST brawled and holds back, I don't believe that determines who is truly better than the other. In fact, the only times the Hulk has ever beaten Thor without obvious PIS and non cannon material are under these conditions. Note that this blog is NOT debating both characters, but is rather meant to show why Thor would beat Hulk, so don't think I'm being biased.
Alright, with that being said, lets get started:
Thor holds back against virtually every opponent he fights, but here are times where he has shown just how hard he can hit
States how a world can be destroyed with his arm and Mjolnir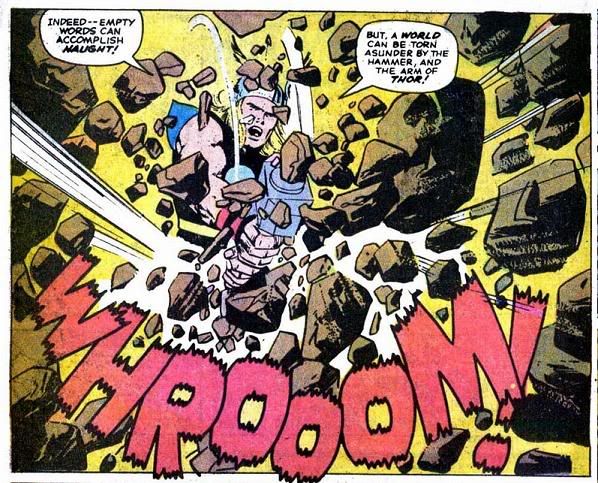 With a single strike, makes a hole in a Celestials armor in which the force is felt around the whole planet
Shatters a plantoid with the force of his hit (not in Warrior Madness)
As you can see, Thor can strike pretty hard. This is power he rarely ever shows against the Hulk, but when he does..
Hulk is nearly killed. Based on this and his other feats, it is accurate to say his blows can kill the Hulk if he wanted to
But his strength is not the only thing he holds back. He has immensely powerful magic weather attacks. Here is an unrestrained attack he used against Glory, an opponent said in an interview to be equal to a pissed off Odin, that not only is capable of planet busting, but also hurt him and created a cosmic hurricane afterwards
This is an attack that I don't see Hulk surviving any time soon. Attacks of this magnitude precisely explain why Thor always holds back against guys like Hulk, and why he would logically never lose to him if he used it all the time.
Thor also has powerful lightning. He even took down Hulk with it in a single bolt
This is another tool he has in his arsenal that he could use to defeat Hulk every time instead of losing a battle, but again his morals and plot hold him back. I also want to point out that if a single bolt did this, what would happen to Hulk if Thor continuously bombarded him with it?
Thor also has the ability to teleport where ever he wants
This could be used to stay away from Hulk, or BFR him with it. If he wanted to, he could take Hulk to the suns core, where he would be vaporized instantly.
Now Thor has a lot more tools he could use to beat Hulk, but after displaying a somewhat basic perspective of Thor's offense, I want to talk about why there's really nothing Hulk could do to even touch Thor before he is defeated or even killed
He catches Ego who was moving in hyperspace (at least 5000x the speed of light)
Mjolnir can move billions of times faster than light, as it returns to Thor from the far reaches of the galaxy in about 60 seconds
This proves that if Thor wanted to, he could move at speeds at which Hulk wouldn't even be able to see or hope to touch him. Also including the fact that he can fly and his teleportation
So in conclusion, If written correctly, Thor has numerous abilities and powers within his arsenal that he could use to very easily defeat the Hulk at any given time. But if Thor is this powerful, why does he lose to and rival the Hulk? Because, as I might have already explained, his morals, plot, the fact that Hulk has a huge fan base and is more popular, and sometimes just poor writing constantly reduces him down to a dumb brute. To be fair, I believe in a slug out there pretty even and Hulk has a great shot at winning. However, in a fight where Thor is willing to use his abilities and true power, Thor would logically manhandle and defeat him with great ease.