I just finish reading the Green Lantern: New Guardians Annual and it just got me thinking on how changed are the GL comics right now
Everyone heard that the New 52 was going to affect pretty much everything except for Green Lantern and Batman, and it is just not true for Batman and it is not true for Green Lantern.
I will to start with the New Guardians Annual, the basis of the issue goes like this, Carol, Kyle Arkillo and Saint Walker go to Zamaron so that Kyle can train to use the violet side of the spectrum, then The Zamarons command Carol on a mission, to go to the place of Lady Styx called the dominion to get an alliance against the 3rd army, Carol contact with a Green Lantern name Jediah Caul, who is the GL of the sector and is working undercover, he informs them of a group of smuglers who can bring Carol with Lady Styx, but the smugglers are just a$$holes and betray carol, capture her and sell her to a tv show that is pretty much Hunger Games kind of thing in space, that is actually interesting, of course Arkillo and SW saves Carol but betray Jediah in place and he ends up in the game.
The issue was ok but it had a few plotholes like if Jediah knows that the Guardians went insane and created the 3rd army then why the hell is he still undercover for them? and if he is still undercover how did Carol contacted him or why did the Zamarons send Carol to Lady Styx instead of going themselves or sending a message with energy, or a phone call or an e-mail, and at the end of the comic the group ends in sector 9008, which is odd since there are only 3600 sectors, but maybe is a typo.
But reading this just kind of brought back a lot of memories of Green Lantern comics of the last few years and made me realize that all of that is gone and i dont think is for the better. Starting with Carol who was a prominent character in this issue, she is no longer the same Carol from the new 52, which got me thinking of how different are the star sapphires and how those affected the whole universe and there are a lot of things that were planned for Carol and them that now gone.
Like Carol as the Queen of Star Sapphires, that was something that came from Brightest Day, Queen Aga'po gets killed and the Star Sapphire Battery gets weak for losing the dead bodies of the pharaons of Hawkman and Hawkgirl and Carol is the one who helps everyone and the Zamarons make her their new Queen and that goes... Absolutely Nowhere.
Just nothing happens with that, and it was very interesting, I think Carol was just a great character in GL from the beginnings of Blackest Night to that point, where she is given the ring and she makes the choice to use it instead of just being possessed by it and that leads her to this point, and no i feel like she is not different from any SS, like her personality is gone, and i felt a lot of that while reading the Annual.
how about the other Sapphires like Mirri
or Fatality who did nothing in New Guardians and now she is appearing in GLC but again, she doesnt seem the same
...
and you know what else, before that there was an interesting aspect from the Sapphires which began in the Sin of the Star Sapphires storyline in GLC, which was the 3rd new Law of the book of OA, Green Lanterns cant be in love with other GLs.which i thought was a great idea to create a great conflict on the GLC and it did for a while when Kyle and Soranik Natu were dating despite being in violation of the New Law
and then the Law is revoked, and nothing happens with that, in fact there were suppose to be 10 new laws in the book of OA since Sinestro Corps War
Laws 1 and 2 allowed the GLs to use lethal power, law 3 forbid romance, law 4 made the sector of Larzfleeze no longer out of reach for GL
and thats it, there is no laws from 5-10
...
you could almost tell by reading GL during that time like i did that this was actually counting down to something and when law #10 was getting released that it would mean a new event coming on. but no it just didnt go anywhere.
and now that i was talking about Soranik Natu, what happen to her.
for those who dont know her she is the daughter of Sinestro and Arin Sur, the sister of Abin Sur, she is a doctor and appeared for the first time on the first chp of Green Lantern Corps Recharged and became a prominent character of it until the relaunch and then nothing...
we dont even know if she exist, we know Abin Sur did had a sister and was married to Sinestro but we dont know anything about Soranik, so maybe she doesnt even exist to make Sinestro, younger i guess...
in fact we dont know anything about most of the people of Green Lantern Corps before the new 52
What happen to Arisia, Iolande, Steel, Sodam Yat and others?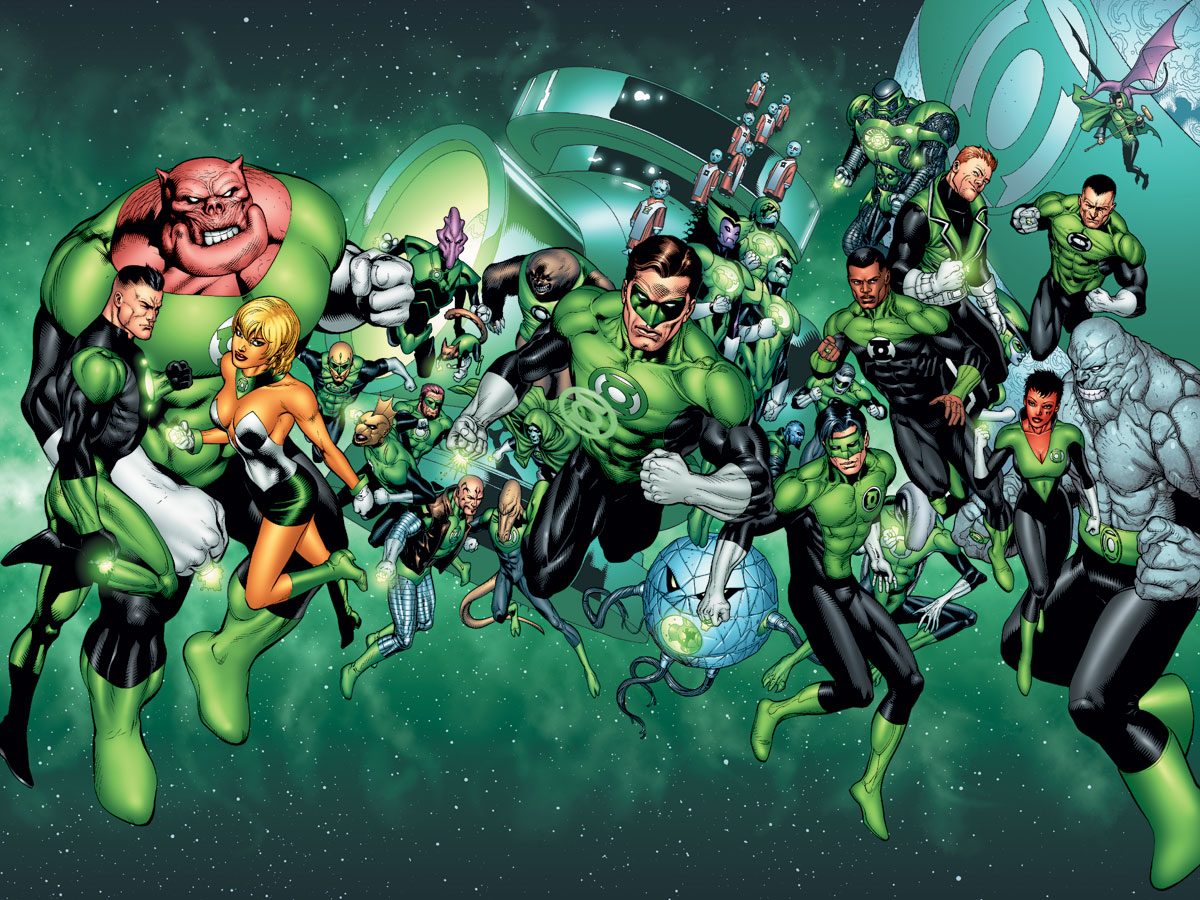 What happen to the the entities, to Parallax and ION and the rest?
we know now that Hal Jordan never died, that he probably was never parallax and definitely never Specter
what about Cowgirl?
does anyone even remembers her?
and now recently in Green Lantern, The Blue Lantern corps was destroyed, so was the Sinestro Corps, the Star Sapphires seems to go the same way and despite getting their own series the red Lanterns seem to lack an independent direction, also Sayd died and the Alpha Lanterns were destroyed.
I feel like the Green Lantern world has just suddenly gotten smaller, or it has the same size, it has less things on it.
and is part because of the recent storylines but also because of the new 52 and the changes that it has done, not only to its continuity but to its place
before i read GLC as an comic that was an Space Opera, now is like a war comic in space
New Guardians had its ups and downs but after a while it felt like it didnt even had a proper dirrection
Red Lanterns is the same, it started like a kind of vertigoeske GL book but the connection with the 3rd army seems hurtful, like i cant believe that they are doing what they are doing now while the 3rd army is going on
and Green Lantern, the first arc felt like if that story was written before the new 52 and had no changes on it, then issue 0 happens, and i like the book, but it feels like and entirely different book, Its like that was suppose to be the new 52 GL, anything before is prenew-52
and thats only the books themselves I dont even bother in trying to figure out how everything fits with the new 52, like if the Blackest Night still happen, how much of that affected the DCU, like was Wonder Woman still a Star Sapphire for a while, who lived who died and what happen from Brightest Day that is still the same, in fact did anyone was even revived at the end of BN?
it was an slow process but I know realize that it is no longer the same thing that got me excited about every month.
does anyone feel the same as me?