I'll start, basic run down on power, abilites and capabilities.
Haha, I think you chose this location for a reason. It fits in with Spawn, and Ghost Rider's characters. For starters, I don't know a whole lot on Spawn, but I am knowledgable on Ghost Rider. To be honest, I could see Ghost Rider as being the more harder one to take down, due to the fact that holy weapons can only hurt him, if i'm right? Mjolnir should be considered worthy. It does have a enchantment on it, that only worthy people can lift it, and has also shown evil beings, cannot touch it, but only if your heart is pure, like Thor, or Captain America for example. Since BFR is allowed I can use that to my advantage, seeing how Thor can teleport beings into places where it will be extremly powerful to get out of, let alone survive. Sentry is going to be a good help with his matter manipulation too. Thor, has great have absorbing abilities. Current Thor's best absorbing feat is when he absorbed the blast of a being named Glory. That was composed of 10 000 gods, and was said by the writer to be as strong a pissed off Odin. Thor also redirected the said attack right back at Glory. So pretty much anything thrown at my team can be blocked.
Also the OP doesn't state if this is a morals off battle, because if it's not. Thor is heavily restricted here. There's a big difference. Morals on Thor can barely handle the Hulk, and when morals are off he's fighting Cosmic Beings, and Skyfathers.
This is a good way of showing the difference between a morals on Thorm and morals off.
Morals on Thor.
Morals off Thor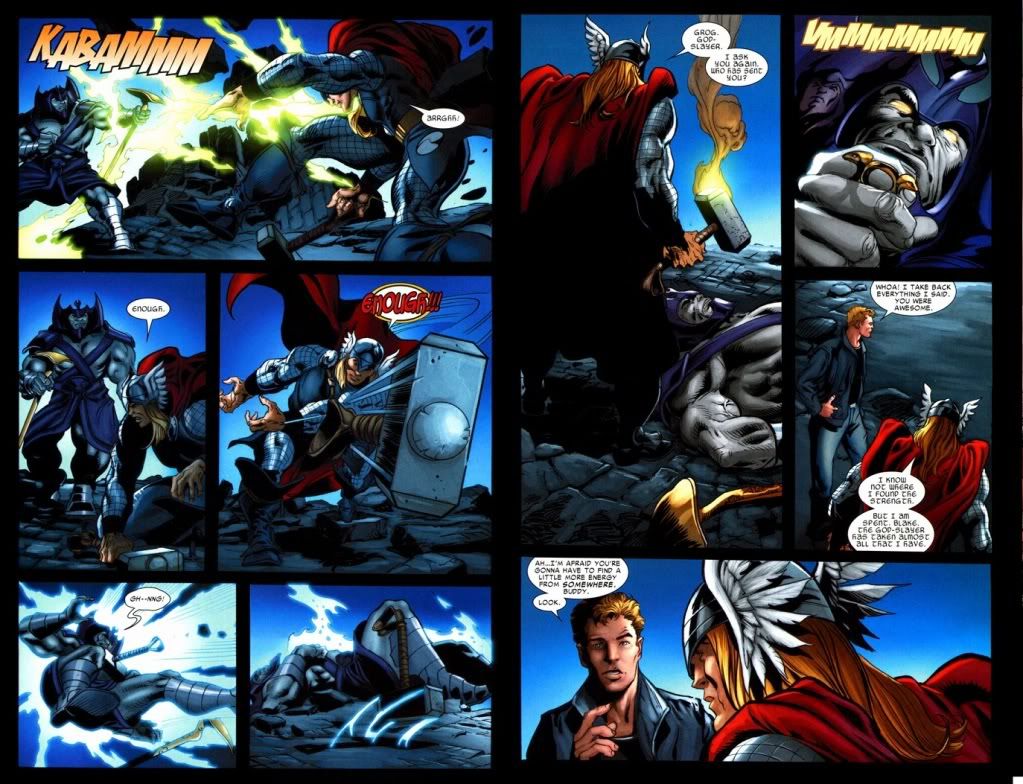 See the difference? Both Thor & Sentry have FTL travel speed.
Now i'm going to talk more about Sentry. His energy maniupulation is not to be taken lightly. He, and Genis-Vell were sending out massive amounts of energy. Enough to destroy a planet, while not intending too, or actually firing directing at the planet. So this is a impressive feat. Which makes it even more impressive, Captain America states there both still holding back!
Tanking Terrax's blast, and broke his axe like it was nothing. Remember Terrax has given the Silver Surfer a good fight in the past.
http://imageshack.us/photo/my-images/504/ts010150oe.jpg/
http://imageshack.us/photo/my-images/504/ts010169mw.jpg/
http://imageshack.us/photo/my-images/504/ts010170vk.jpg/
That's it for now. That's just my opening. Theres a lot more to come.